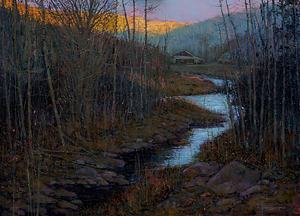 My favorite places, far and near, dressed in the signs of seasons; ever changing ... cloudy, cold, colorful, comforting, clean, calm ... celestial.
Through the Thicket,  30x40     
---
America's Western Life: Herder of cattle, home on the range, companionship of a horse, rodeo rider, satisfaction, solitude, symbols ... of America's Cowboys.
Been There, Done That, 30x24
---
Interpretations of America's Native People, as I view their heritage of courage and strength of character.
Signs, Symbols and Tokens,  24x18      
---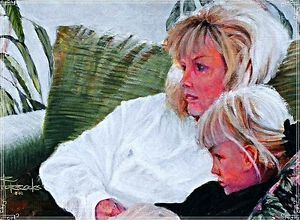 From birth to earth, a selection of paintings that are caught in the passage of time ... babies, children, family, friends, figurative studies; fantasy and religious; the common and the personal; portraits or spontaneous, paintings from the artist's perceptual views of life around us, here...or ...there..
Watchin' Lion King,  18x24     

---
Found near at home or in a far-off continent, nature intrigues us with its vast dicotomy displayed in the Animal Kingdom... menacing and meek, the mighty and the mild.
Prairie Power,  24x30     

---
Settled on some surface tops, scattered and random; some evenly ordered inanimate objects capture our interest... and ... call for our attention.
Olives and Onions,  16x20     

---
The City: Personalities of a city are portrayed through the people who walk its streets...
P-Town, Nor'easter,  24x36

The Sea:  Crusty boats, brewing storms; salty breezes, beaches of sand, searching waves, wondrous scintillating ... sights, smells and sounds . . .  of The Sea.
Nor'easter's  A' Comin',  24x36     
---

This painting won an Award of Merit, with cash price from the NOAPS Society, the   Best of America 2012, National Oil & Acrylic Painters' Society exhibit.  This prestigious juried art exhibition features my painting of our grandson, Corporal Andrew Horrocks, who won his own awards of valor.
Corp. A. Horrocks, USMC, Semper Fidelis,     
PRIVATE COLLECTION   

---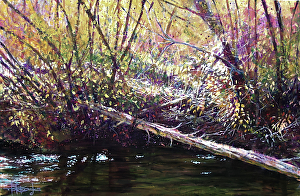 Some of my favorites that have been Donated, Sold or are in Private Collections Also See: Archives for older paintings.
---
---